Dehydrated

Potatoes

Convenient and Economical Ingredients for Food Service and Snack Manufacturers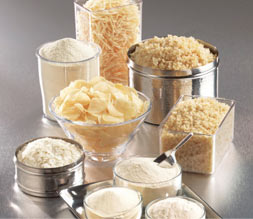 Made From 100 % Fresh Idaho Russet Potatoes, dehydrated potatoes are conveniently used for food service applications and snack food production. Dehydrated potatoes retain most of their nutrition and provide the delicious fresh flavor of potatoes, without all the peeling, washing and dicing. NO additives or preservatives. Fat-free. Cholesterol free. Sodium free.*** Ingredients like dehydrated potato flakes can be used for snacks such as potato chips, extruded snacks, or snack pellets. For food service outlets such as restaurants, fast food joints, catering services or hotels, dehydrated potatoes easily lend themselves to casseroles, side dishes, breakfast burritos, coating for breaded meats, as thickeners in gravies, stews and soups, as an ingredient in gluten-free breads and cookies, as easy- to- prepare mashed potatoes and so much more.
Dehydrated 1/8" Peel-On Slices Dehydrated 1/8" Slices
Dehydrated dices in ¾" x ¾" x 1/8"; ¼" x ¼" x ¼"; ½" x ½" x 1/8"
Dehydrated hash browns 1/10" x 3/16" x ½" (***contains additives/preservatives/sodium/fat)
Dehydrated Fine Potato Flour
Dehydrated Ground Potato Flakes and/or Potato Flakes
All ingredients provide a nutritious base food and neutral product which compliment variety of other ingredients.
We can match your specifications !