USSEC 6th Regional Dairy Nutrition Conference - MENA In Egypt
Fornazor International's Kevin Sinnott is in Cairo Egypt this week attending the USSEC's regional dairy nutrition conference.
Pictured from left to right:
Jim Sutter - CEO USSEC
Mousa Wakileh - Regional Consultant MENA USSEC
Kevin Sinnott - President Fornazor International, Inc.
Brent Babb - Regional Director - EU & Mena USSEC
Mohammed Haneef - NutriPlus Commodities Dubai
Dr. Dave Gast - Dairy Nutritionist AGP
Continue Reading
Lines were long at our booth and customers were excited about Super Pro Plus, intended for use in layer, breeder and broiler rations.
Fornazor presented its Halal certified Super Pro Plus, a 100% vegetable protein available year round. Also presented were animal and vegetable proteins as well as marine proteins.
For those of you who missed Fornazor at the exhibition, please visit www.fornazor.com and look for the link to our catalog. There you will see most of or offerings. Questions: contact us at info@fornazor.com
Continue Reading
The Fair features Feed, Food and Animal Health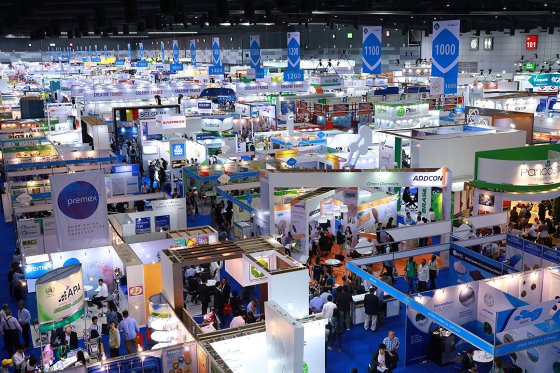 Organized every 2 years in Bangkok, and located in the heart of the Asian booming markets, this show presents in 2019 around 1,250 international exhibitors and 50,000 expected professional visits from all over the world.
Fornazor International, Inc., will present its animal and vegetable proteins, grains and oilseeds, alfalfa and fishmeal replacers among other commodities. We have been in business for 40 years and work with customers in more than 50 countries.
Please stop by our booth. We are in Hall 102, booth number 2270. We look forward to welcoming you.

Continue Reading
A recent issue of All About Feed Digital Magazine had an interesting article on the seven factors that influence intake and digestibility in cattle.
As a brief summary, the list includes the following:
Overfeeding is a No No! Cattle are adversely affected by overfeeding. They often show symptoms of bloat, indigestion, and acute distention or impaction of the stomach.
Underfeeding....no living being likes to be hungry. A long-continued deficiency of vitamins and minerals usually leads to the development of the so-called nutritional diseases. This can cause irreparable damage and must be avoided.
Feed processing. It was found that grinding of citrus pulp by Wiley mill significantly increased iron, zinc, copper, sodium, and manganese in the form of finely pulverised metals. These may be better utilized than the same elements inherently present in the feed.
Feeding frequency. When feeding animals 5-6 times per day, there will be a stable pH in the rumen at levels ranging for about 5.5 to 5.8.
Environmental factors. Feed intake is affected heat stress, rain, noise and high altitude.
Animal factors. Age, pregnancy, and level of exercise are all factors for intake.
Diseases. A study was conducted to quantify feed intake decreases. and associated milk production losses related to health disorders in dairy cows
For the full article :
Continue Reading
Fornazor International returns to exhibit at International Production and Processing Expo, Feb 12 to 14, 2019.
The company is 100% export based and has been in business for 40 years. We trade with over 50 countries around the world.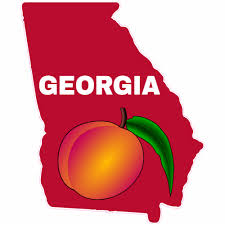 Please visit us in booth 7071. We will present our range of commodities including poultry feed, dairy feed, aqua feed and many specialty ingredients. Many of our trading specialists will be on hand to answer your questions.
We look forward to meeting you.
Continue Reading
Dairy Market Insights
The global dairy market was USD 413.8 billion in 2017, and is expected to register a decent growth rate during the forecast period. The global dairy sale has surpassed 192,884 million kg in 2017, with milk accounting for the largest category. The global dairy market observed a volume growth of 1.8% during the past five years.
Asia-Pacific is the most significant market holding a market share of 42% in 2017, driven by growing appetite for dairy in India and China. Europe, the United States, New Zealand, Australia, and Argentina are the primary dairy-producing countries, globally. China is the fastest-growing dairy market, expecting to witness a CAGR of 8.9%, during the forecast period. Affordability and expanding retail distribution, such as supermarkets/hypermarkets remains the key driver for emerging markets. Consumer interest in fermented dairy products, owing to their digestive health benefits, have become popular.***
Fornazor International will be exhibiting at VIV Bangkok, March 12 to 15, 2019. If you are attending, please stop by our booth and learn about Amino Plus (R) a soy bypass protein used to enhance the milk productivity in dairy cattle. Fornazor booth is in Hall 102/ Booth 2270
***Original article at : https://www.mordorintelligence.com/industry-reports/dairy-market
Continue Reading
Results are in from 2018
More than 20% of US agriculture is exported overseas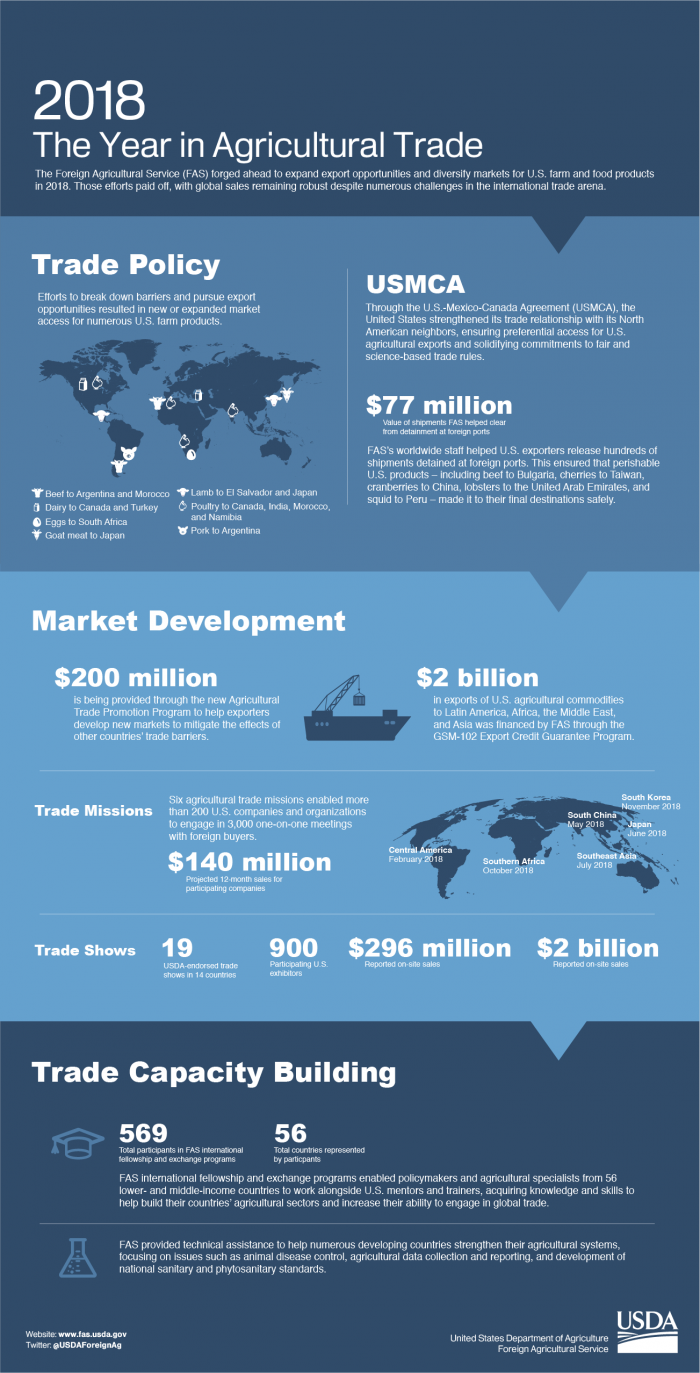 Continue Reading
Bloomberg News, December 12, reports:
"China resumed buying U.S. soybeans, bringing some relief to [American] farmers as President Xi Jinping works toward a trade deal with his American counterpart.
The Asian commodity importer bought 1.5 million to 2 million metric tons of American supply over the past 24 hours, with shipments expected to occur sometime during the first quarter, the U.S. Soybean Export Council said, citing unidentified industry sources.
Continue Reading
On Saturday December 1 President Trump and President Xi Jinping of China met at the G20 summit to discuss trade and tariffs in Argentina.
Following the meeting President Trump announced the US would leave the tariffs on $200 billion worth of product at the 10% ratge, and not raise it to 25% at this time. China agreed to immediately start purchasing agricultural product from US farmers.
Additional negotiations on a variety of trade topics will continue for the next 90 days.
Continue Reading
Recent Posts
Archives
About Us
Name: Fornazor International
Location: Hillsdale, New Jersey, United States
Fornazor International, Inc. currently supplies a wide range of feed ingredients to the export market. Our feed ingredients include animal proteins, such as poultry feed; vegetable proteins, such as distillers grains, corn gluten meal, and soybeans; and various marine proteins.
We can also supply aquaculture feeds, pet foods, alfalfa pellets, forage grass and equine supplements and feeds. In addition, we have a full line of value added bakery ingredients and additives such as dough conditioners, as well as specialty foods. Contact us for more information.
View My Complete Profile