Fornazor at the Fancy Food Show, Washington DC
The Fornazor specialty food team just returned from the calorie- filled, Fancy Food Show in Washington DC. If you can think of a food, we probably tasted it. With over 180,000 products from 80 countries around the world, there was more than enough to keep us busy.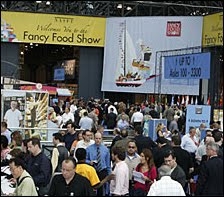 This show attracts people from around the globe because in a global economy, more and more people travel and enjoy exploring new cuisines. Even homes in remote countries see televised cooking shows over rooftop-mounted satellite dishes, and local foods have become internationally famous.
We observed many trends:
Better-for-you (healthy) foods continue to be strong, with more and more new products. This includes foods in the natural and organic categories, as well as offerings like fruit/nut/ protein snack bars and vitamin- and nutrient-enhanced treats. Smaller portion packs are also popular important, as they limit the amount of calories when consuming treats.
Natural sodas continue to grow, with Mintel Marketing Intelligence Group predicting sales of $4.1 billion in 2012.
During the past few years, yogurt has become #1 in the snack category, with growth in specialty yogurts, and yogurt-based drinks.
On the snack front, 3,805 products rolled out since 2010: 786 cookies, 550 cereal bars, 526 potato chips, 308 nuts and seeds, 259 crackers, 237 popcorn products and 1,139 other snacks (pretzels, tortilla chips, puffed snacks, fruit snacks, meat snacks, etc.).
Across the board, popular specialty food flavors are coconut, licorice, caramel, peach, banana and watermelon.
When it comes to product sourcing, Fornazor has over thirty years' experience working with foreign buyers. We trade with businesses on all seven continents. Let us provide you with the information you need in the specialty food market: basics, trends,and everything in between.
We offer our suppliers (who may be new to international trade) a full service package: guidance for all export documentation; handling and shipping; and a guarantee of payment by taking full title to the goods prior to shipment.
We look forward to working with you.
Recent Posts
Archives
About Us
Name: Fornazor International
Location: Hillsdale, New Jersey, United States
Fornazor International, Inc. currently supplies a wide range of feed ingredients to the export market. Our feed ingredients include animal proteins, such as poultry feed; vegetable proteins, such as distillers grains, corn gluten meal, and soybeans; and various marine proteins.
We can also supply aquaculture feeds, pet foods, alfalfa pellets, forage grass and equine supplements and feeds. In addition, we have a full line of value added bakery ingredients and additives such as dough conditioners, as well as specialty foods. Contact us for more information.
View My Complete Profile