Fornazor International to attend Soy & Grain Trade Summit 2011
Traders from Fornazor International will attend this year's Soy and Grain Trade Summit hosted by Soyatech at the Hyatt Regency St. Louis at the Arch, October 31 - November 3, 2011.
The annual event will offer strategies for sustainable growth in agricultural production, processing and transportation worldwide.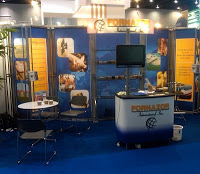 The Soy & Grain Trade Summit will feature exhibitions from industry professionals including grain and oilseed producers, processors, and exporters such as Fornazor International. Manufacturers of food, animal feed, and bio-fuels, as well as equipment and service providers, trade groups, government agencies and academics will also be present.
Recent Posts
Archives
About Us
Name: Fornazor International
Location: Hillsdale, New Jersey, United States
Fornazor International, Inc. currently supplies a wide range of feed ingredients to the export market. Our feed ingredients include animal proteins, such as poultry feed; vegetable proteins, such as distillers grains, corn gluten meal, and soybeans; and various marine proteins.
We can also supply aquaculture feeds, pet foods, alfalfa pellets, forage grass and equine supplements and feeds. In addition, we have a full line of value added bakery ingredients and additives such as dough conditioners, as well as specialty foods. Contact us for more information.
View My Complete Profile