Gulfoods: Where the World Talks Food
Team Fornazor traveled to Dubai and braved a sandstorm during Gulfood, one of the largest food, hospitality and ingredient trade shows in the world. Everything in Dubai is Bigger! Taller!! More Excessive!!! than any other place on earth. The show lived up to Dubai's larger-than-life reputation and attracted over 62,000 attendees with more than 3,800 exhibitors from 88 countries. The exhibition was held in 9 separate halls and was spread out over one million square ft. of dedicated exhibition space. Gulfood 2012 had pavilions from all corners of the globe including Algeria, Hungary, Kenya, Peru, Argentina, Australia, China, Chile, France, Hungary, Japan, Kenya, Malaysia, Maldives, Pakistan, South Africa, Switzerland, Turkey, USA and Vietnam.
And for those who have a thing for camels, this was the place to be. The UAE has a strong attachment to their camels. In the first decade of the 21st century, there were about 200,000 camels within the Emirates. There were at least that many at Gulfoods, but in the form of sculptured chocolates, delicate baked goods and creamy ice creams.
The growth and outlook of the food sector is a very important issue for the Middle East market as global trends present new opportunities for the food and beverage industry. Why? With food consumption in the region growing exponentially, there is a pressing need to establish valuable trade relations with food producing nations. Additionally, the region represents huge potential for companies where established markets now deliver minimal growth.
The show positions itself as a sales and sourcing platform for all participants.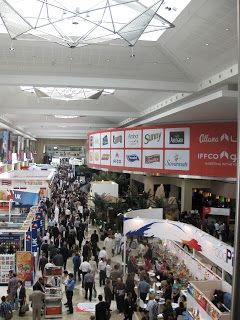 Recent Posts
Archives
About Us
Name: Fornazor International
Location: Hillsdale, New Jersey, United States
Fornazor International, Inc. currently supplies a wide range of feed ingredients to the export market. Our feed ingredients include animal proteins, such as poultry feed; vegetable proteins, such as distillers grains, corn gluten meal, and soybeans; and various marine proteins.
We can also supply aquaculture feeds, pet foods, alfalfa pellets, forage grass and equine supplements and feeds. In addition, we have a full line of value added bakery ingredients and additives such as dough conditioners, as well as specialty foods. Contact us for more information.
View My Complete Profile