New Jersey Lieutenant Governor Kim Guadagno Visits Fornazor International
On February 12, Lt. Gov Guadagno visited Fornazor International as part of her statewide tour highlighting New Jersey businesses which export.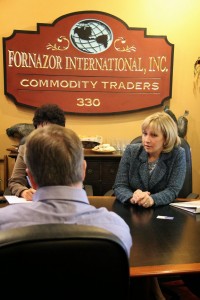 "In this global economy, many New Jersey businesses depend on a world market. The companies I meet with understand that exporting is a great way to grow business" said the Lt. Governor during her visit. "With expert advice, the state's Office of International Business Development and Protocol is helping businesses identify export opportunities that can help to increase a company's profitability. The Christie Administration congratulates the achievements of Fornazor International."
Fornazor International has been in business for over 35 years and exclusively exports to international markets. Its traders have years of experience in the vegetable, animal and marine protein markets. Also traded are equine feeds and shelf stable foods for food service customers.
John Fornazor Sr. said "As we work to increase our export potential, we are indeed grateful for the support we have received from the state of New Jersey. We look forward to continued growth in the state."
Recent Posts
Archives
About Us
Name: Fornazor International
Location: Hillsdale, New Jersey, United States
Fornazor International, Inc. currently supplies a wide range of feed ingredients to the export market. Our feed ingredients include animal proteins, such as poultry feed; vegetable proteins, such as distillers grains, corn gluten meal, and soybeans; and various marine proteins.
We can also supply aquaculture feeds, pet foods, alfalfa pellets, forage grass and equine supplements and feeds. In addition, we have a full line of value added bakery ingredients and additives such as dough conditioners, as well as specialty foods. Contact us for more information.
View My Complete Profile