Results are in from 2018
More than 20% of US agriculture is exported overseas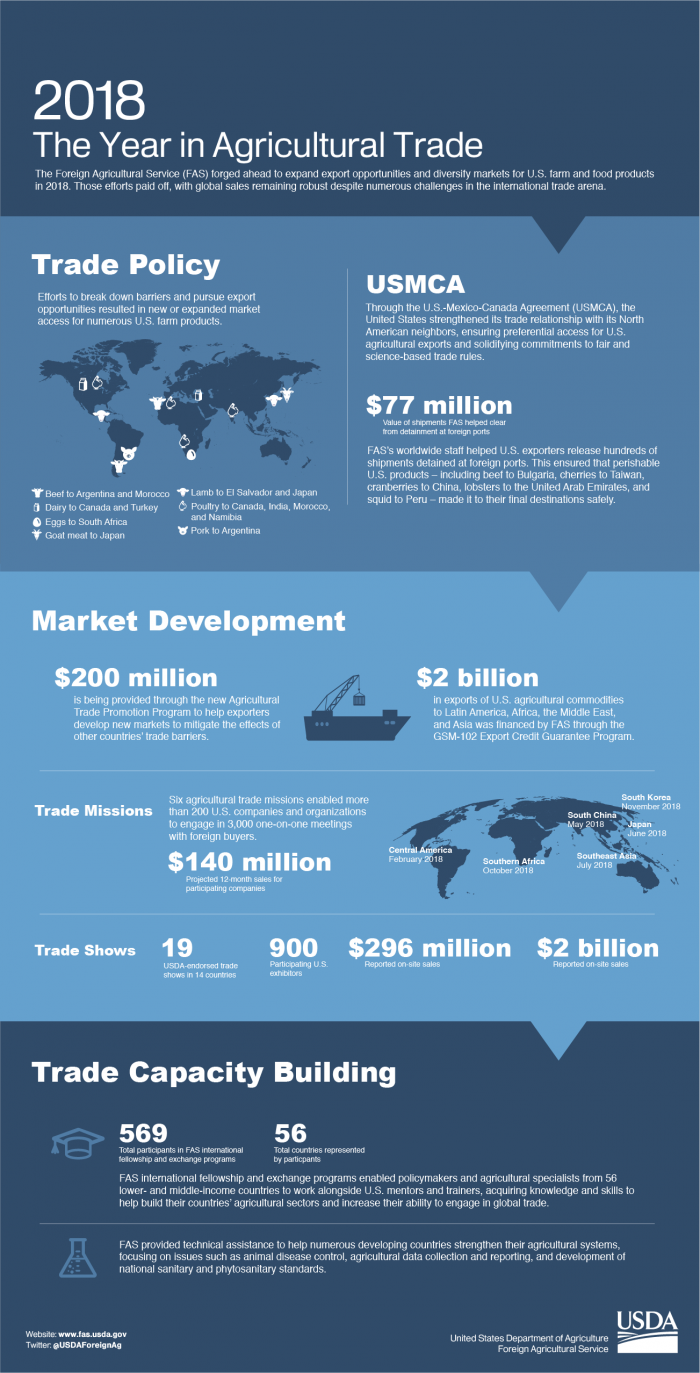 Continue Reading
Bloomberg News, December 12, reports:
"China resumed buying U.S. soybeans, bringing some relief to [American] farmers as President Xi Jinping works toward a trade deal with his American counterpart.
The Asian commodity importer bought 1.5 million to 2 million metric tons of American supply over the past 24 hours, with shipments expected to occur sometime during the first quarter, the U.S. Soybean Export Council said, citing unidentified industry sources.
Continue Reading
On Saturday December 1 President Trump and President Xi Jinping of China met at the G20 summit to discuss trade and tariffs in Argentina.
Following the meeting President Trump announced the US would leave the tariffs on $200 billion worth of product at the 10% ratge, and not raise it to 25% at this time. China agreed to immediately start purchasing agricultural product from US farmers.
Additional negotiations on a variety of trade topics will continue for the next 90 days.
Continue Reading
The US Soybean Export Council  has just published an article on its International Soy in Aquaculture Program. The USSEC has been working to increase the use of soy products in farmed fish feed initially in China.  The price of soy was proven to be a more affordable alternative to fishmeal and fish oil. As the aquaculture industry grew, the program's focus expanded to other global regions and farmed species.
In the past 15 years, soy has emerged as the most widely used alternative protein to fishmeal in farmed fish diets. Soy's complete nutritional and amino acid profile works well in aquaculture feeds.
Fornazor International is a 40 year old trader of agricultural commodities. Our company is based in New Jersey, USA.
For competitive prices on soybean meal, contact Fornazor International at info@fornazor.com
https://ussoy.org/the-proof-is-in-the-numbers-u-s-soy-is-helping-global-aquaculture-become-more-sustainable/
Continue Reading
U.S. President Donald Trump will sign a successor to the North American Free Trade Agreement (NAFTA) that will make modest revisions to a previous deal which was killed. This new agreement will ease uncertainly for companies reliant on tariff-free commerce.
The 24-year-0ld NAFTA will now be superseded by the U.S.-Mexico-Canada Agreement, or USMCA, covering a region that collectively trades more than $1 trillion annually.
The new deal is to have more cars and truck parts made in North America. Also, Canada was holding firm on charging high tariffs on US dairy products. Canada has a complex milk and dairy system. To ensure Canadian dairy farmers don't go bankrupt, the Canadian government restricts how much foreign dairy can enter to keep milk prices high. In the end, Canada is keeping most of its system in place, but is giving a greater market share to the US dairy farmers. That means US dairy farmers can probably send a lot more milk protein concentrate, skim milk powder and infant formula to Canada.
Continue Reading
AFIA (American Feed Industry Association) has a great short film on the four basic steps involved in producing animal food: receiving, formulating, mixing and packaging. Take a look:
Continue Reading
Kevin Sinnott, President of Fornazor International, was an invited guest speaker at the USSEC fifth annual Regional Dairy Nutrition Conference. He discussed export logistics from the USA to the Middle East.
The MENA region is home to 380 million people or six percent of the global population.  The countries of Egypt, Tunisia, Morocco, Saudi Arabia and Israel import over 150,000 metric tons of U.S. Soy and the region represents four percent of total U.S. Soy exports.
Pictured are Kevin Sinnott and Dr. Dave Gast, Director, Nutrition & Technical Servi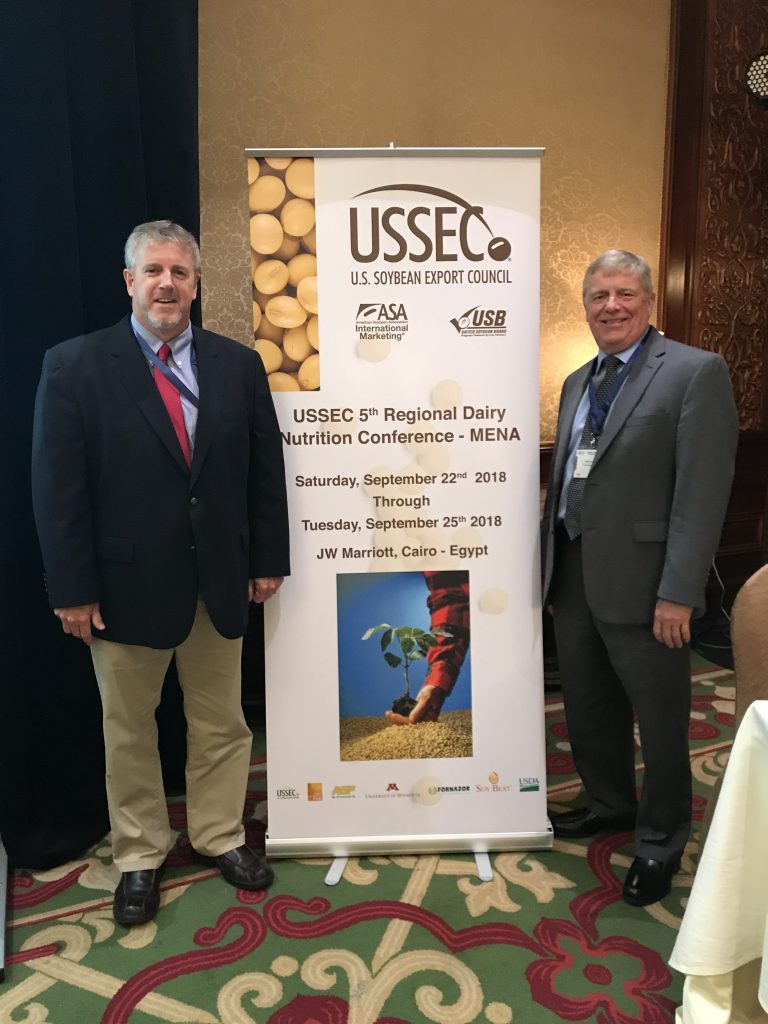 ces, Ag Processing Inc.
Continue Reading
As reported by the United States Department of Agriculture/ Foreign Ag Service: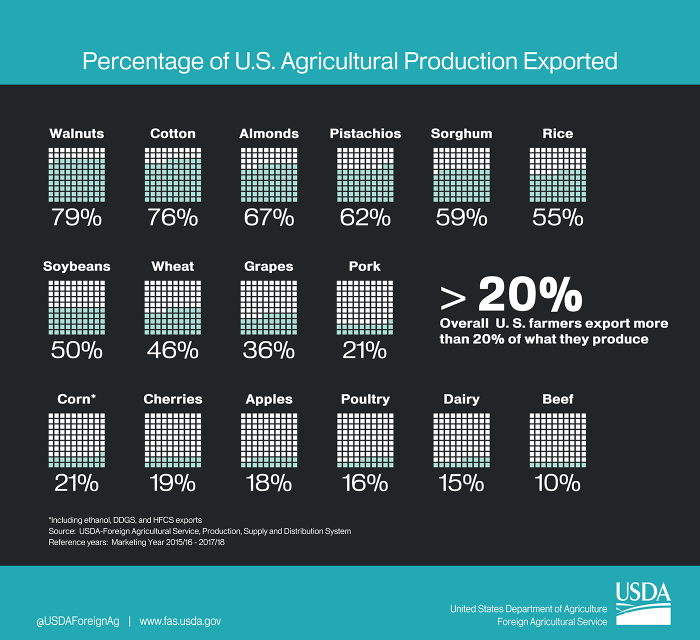 Continue Reading
US to spend $4.7B to aid farmers
Soybean farmers will be the primary beneficiaries of a $4.7 billion program to offset trade losses, The Wall Street Journal reports. The U.S. Department of Agriculture will make payments to the farmers under the program, which is intended to counter the impact of Trump administration tariffs and counter-tariffs by other countries, especially China. The USDA will:
Make $3.6 billion in payments to soybean farmers
Buy up to $1.2 billion of food from farmers
Spend $200 million on trade promotion
Starting Sept. 4, the USDA's Farm Service Agency will administer a program to provide payments to corn, cotton, diary, hog, sorghum, soybean and wheat farmers.  Soybean farmers will get the bulk of the money, $3.7 billion. Pork producers will get $290 million, while cotton farmers will receive $277 million.
The Wall Street Journal reported this story on August 27th 2018. Story is available by subscription to the WSJ.
Continue Reading
Recent Posts
Archives
About Us
Name: Fornazor International
Location: Hillsdale, New Jersey, United States
Fornazor International, Inc. currently supplies a wide range of feed ingredients to the export market. Our feed ingredients include animal proteins, such as poultry feed; vegetable proteins, such as distillers grains, corn gluten meal, and soybeans; and various marine proteins.
We can also supply aquaculture feeds, pet foods, alfalfa pellets, forage grass and equine supplements and feeds. In addition, we have a full line of value added bakery ingredients and additives such as dough conditioners, as well as specialty foods. Contact us for more information.
View My Complete Profile